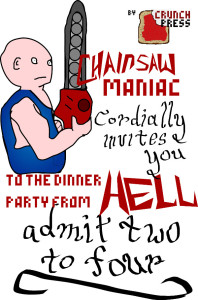 In Chainsaw Maniac Cordially Invites you to Dinner, two to four players have unwisely accepted the Maniacs invitation, only to find that he has quadruple locked the door and intends to murder them!
Purchase it now for £10 + 2.50 p&p, recorded delivery, anywhere in the UK!
Not in the UK? Delivery to the US or Canada: (£10 + £5 postage)
Somewhere else? Contact us in the comments!
About the Game
Players compete to be the first player to get four of the five keys hidden in the house, exploring and building the Chainsaw Maniacs house around, collecting and using items and scuffling, the polite dinner party version of roughing someone up to steal their belongings.
The Maniac will roam the house after players, never directly controlled by any of them, hunting the nearest unhidden player. Players can hide in wardrobes to get away, or perhaps use one of the many items such as the Aftershave which, when applied to other players, will make the Maniac hunt them instead (the Maniac hates it when people wear his aftershave) or if all else fails – RUN!
The Maniac being an impatient man and not one for home decoration, he will use his chainsaw to chop through walls while hunting for the players – creating new and potentially dangerous routes for them to nip around the board.
As the game goes on, players will encounter the two Golems – slow moving creatures not as fast as the Maniac, but just as dangerous, and for more experienced players, the Maniacs twin brother just might pop round for a cup of sugar. Furious he hasn't been invited the party, he'll take it out on the guests – and he's brought his chainsaw!
With a playtime of 60 to 90 minutes.
PLEASE NOTE – We manufacture these ourselves, from 250gsm card (a little bit thicker then your average paperback book cover). They're perfectly durable, but not as thick as your average board game! We hope you enjoy!
Shipped in a cardboard backed A4 envelope, everything you need to play included.